Why is WordPress the most popular blogging platform? One of the main features is that it's easy to use and has tons of great features. What really made this open source software excel is its passionate community because WordPress has lots of features built in, but it doesn't have everything. Talented developers are constantly creating plugins to extend the features and make it even better.
There are so many WordPress plugins out there, but in this article we're focusing on the best unknown WordPress plugins! Discover below a list of 10 plugins that every WordPress website could use.
Easy Contact
Easy Contact is a simple contact form that utilizes the Sandbox design patterns to create a highly semantic, XHTML-based contact form you can insert using [ easy-contact ] on any page or post.
Features
Out-of-the-box function using shortcode without editing any files
Options menu for complete customization of form content
Spam reduction measures, i.e., math- and/or challenge-based question
Secure plugin operation and highly semantic XHTML
Use of the Sandbox comment form design patterns
An included starter CSS file with corresponding images
Tracked information, e.g., user agent, user referrers, IP
Insights
Insights brings a powerful new way to write your blog posts. It increases productivity and at the same time the appeal of your posts.
Features
Search your blog for posts, edit them or insert links to them into the current post
Insert Flickr Images
Insert Youtube videos
Search and link to Wikipedia
Search Google
Search News
Google Blog Search
Insert a Google Map
Login LockDown
Login LockDown adds some extra security to WordPress by restricting the rate at which failed logins can be re-attempted from a given IP range.
Features
Login LockDown records the IP address and timestamp of every failed WordPress login attempt.
If more than a certain number of attempts are detected within a short period of time from the same IP range, then the login function is disabled for all requests from that range. This helps to prevent brute force password discovery.
Currently the plugin defaults to a 1 hour lock out of an IP block after 3 failed login attempts within 5 minutes. This can be modified via the Options panel.
Admisitrators can release locked out IP ranges manually from the panel.
Post Ideas+
This great plugin allows you to write down ideas for future blog posts directly from the dashboard.
Features
The plug-in stores a title, description, tags, links and priority associated with the post.
Easy to update, write and delete from the admin menu or dashboard widget.
Revision Control
Revision Control allows finer control over the number of Revisions that a Post/Page can have. You can even change the revision number per Post/Page.
Features
This plugin is designed to allow Configuring this option via the WordPress admin panel, And to set it on a per-post/page basis.
SEO Slugs
Removes common words like 'a', 'the', 'in' from post slugs to improve SEO.
Example:
Title of your post "What You Can Do Immediately For Higher Rankings",
WordPress result: /what-you-can-do-immediately-for-higher-rankings
SEO Slugs result: /immediately-higher-rankings
The slug is generated on saving a post (so you get a chance to look at it before publishing, and change it), or on publish. It won't overwrite an existing slug. You can force a new slug generation by deleting the existing one.
Simple 301 Redirects
Create a list of URLs that you would like to 301 redirect to another page or site. It's especially handy when you migrate a site to WordPress and can't preserve your URL structure. By setting up 301 redirects from your old pages to your new pages, any incoming links will be seemlessly passed along, and their pagerank (or what-have-you) will be passed along with them.
Technical Support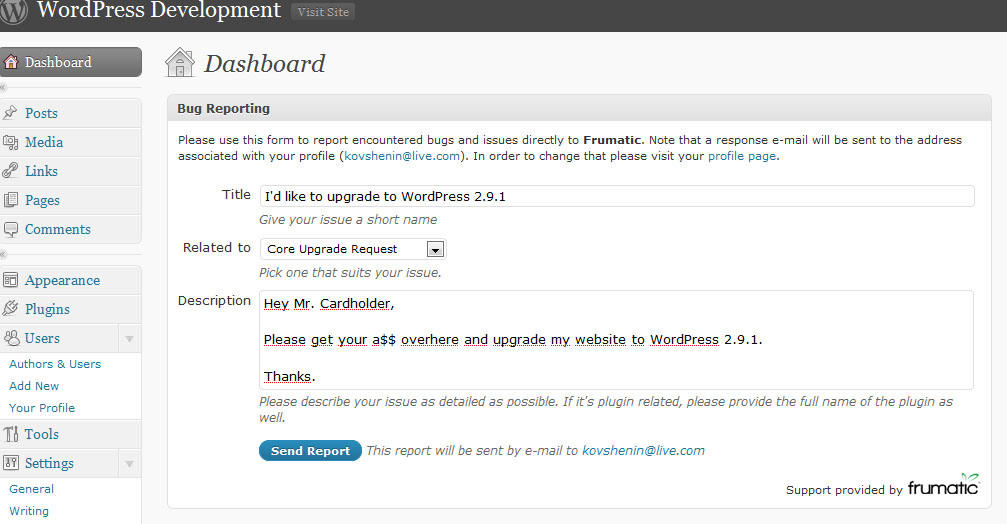 If you're a freelancer, a web design agency or simply a WordPress consultant, Technical Support for WordPress is a way to provide quality support to your clients. After setting up a WordPress powered website for your client, install the Technical Support plugin, which will enhance your client's Dashboard with a new widget for submitting support tickets directly to your e-mail.
Features:
Easy to setup and configure
Customizable company name, email, logo and URL
Customizable subjects and messages being received
Customizable "related to" topic list
Widget Logic
One of my favorite Plugins for WordPress is Widget Logic. This great plugin allows widgets to appear or not depending on standard WP conditional tags, such as is_home() and is_single() and so on.
WP Maintenance Mode
The plugin adds a splash page to your blog that lets visitors know your blog is down for maintenance. Logged in users get full access to the blog including the front-end, depends of the settings.
WP Maintenance Mode has over 7 great templates! You can even add your own html and stylesheet and add the url of this style to the options of the plugin.