This is our first weekly column in which we share our favorites posts, articles and resources with our readers all from last week.
We will focus only of the BEST of Photoshop, Webdesign, Inspiration, Resources and WordPress Articles!
If you would like to be kept up to date with loads of fresh design news and resources, you can follow us on Twitter or even by subscribing to our RSS feed.
Photoshop
50 Beautiful PSD Web Templates Of 2010 For Free Download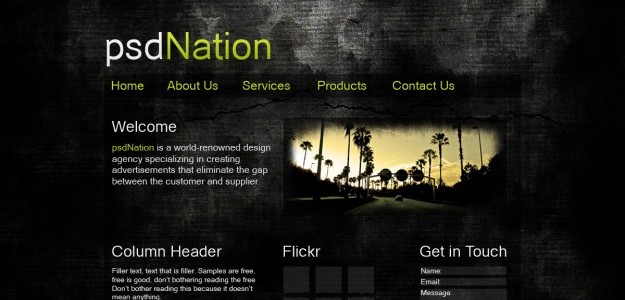 50 super stunning free psd (photoshop) web templates, which contain full layers, effects and with web 2.0 wow factors. You can tweak these to make a great html/css or everyone's favorite WordPress themes.
Gradients
Gradients are a great way to add lifelike lighting and shading to surfaces. When built with gradient layers and layer styles, they also ensure UI elements can be scaled and reused easily.
Create a Modern and Sleek Blog Design in Photoshop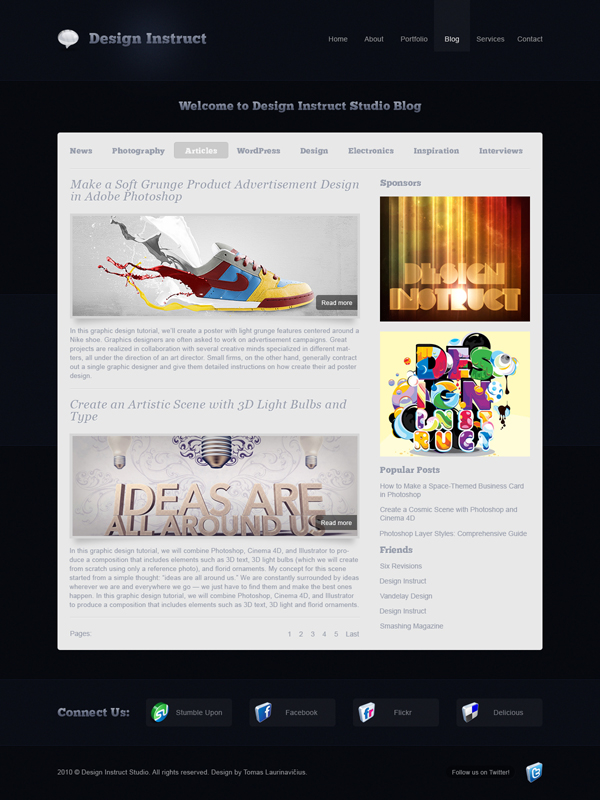 This web design tutorial will show you the process of designing a sleek, modern, dark-themed blog layout. The tutorial will only be about design of the front page of the blog. Basic web design techniques using familiar Photoshop tools such as the shape tools, guides, layer styles, and the Brush Tool are used in this article.
Create a Surreal Vintage Futuristic Design with Photoshop
Photoshop tutorial about a striking vintage-style design with awesome "wear and tear" effects. You will learn a myriad of graphic design techniques in this tutorial using a slew of Photoshop tools to help us get to the final result
Exclusive Texture Pack from TextureQuality.com
This Free Texture Pack is for use in your personal and commercial projects, and can be used without attribution.
Webdesign
Annotation Overlay Effect with jQuery
The idea came from the portfolio of www.rareview.com where Flash is used to create the effect and in this tutorial jQuery is used.
Read Tutorial | View Demo | Download Tutorial
40 Informative Blogs For Developers and Designers
If you are a web designer and you are looking for resources, inspirations, designing tutorials or want to keep yourself updated with the current trends in this field. You will find a huge number of blogs featuring tips, tricks and how-to on daily basis. Here are 40 awesomely informative blogs.
30 Examples of Mega Menus in Web Design
Mega menus are often used on large sites that have considerable number of pages for users to navigate. In this post we'll look at 30 examples of mega menus in action.
Make a 'View Source' Button
Remy Sharp's has a 'View Source' button on each of the individual demo pages. Click it, and you see the entire source code for the page you are looking at. It's not a popup or a new tab, it just shows the source right there on the page.
Exclusive Free Toolbar Icon-Set from Speckyboy
The Speckyboy Toolbar Icon Set, containing 10 glorious and beautifully designed 256px icons in PNG format and are perfect for any web design project. Also included in the download are the AI source files.
Awesome Landing Pages
Landing pages or call to action button pages not only have to be attractive but should also be accommodating the overall website design. Landing pages are for capturing leads.
30+ Attractive Web Footer For Your Inspiration
You can do so much more with a blog footer. Twitter updates, popular posts, recent comments, and Flickr photo streams are just a few common ideas. Have a look at the photos below and see if you can pick up a few ideas!
WordPress
Turn your blog into anything: 13 unusual uses for WordPress
It's quite common to use WordPress as a CMS. What some people still don't know is that you can do much more with WordPress. This post shows 13 examples of cool things you can achieve with WordPress.
20 Awesome WordPress Typography Themes for Writers
If you are a great writer who enjoys writing, you should find a great blog theme and let the content does action. In this case, there are no styles better than a minimal design which focuses on typography because the minimal style is more appropriate for the content and it's audience.
The Ultimate Roundup of Blog Design Tutorials
Creativity has no end to it and especially designing has seen and is seeing a continuous growth in its field. So we present you with some of the tutorials which make make this tedious process easy for you to learn and master in wordpress blog designs.
SEO Optimization For WordPress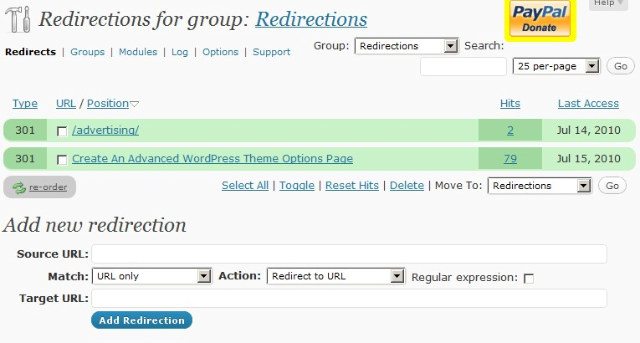 Brief tutorial on how-to optimize your SEO for WordPress.
Inspiration
Showcase of Beautiful Architecture Photography
Designers get inspiration from all different kinds of sources. Photography is a favorite source for many designers, and architecture is a good source of inspiration as well. In this post we'll feature 35 beautiful photos of architecture from a variety of photographers.
More Creative Album Cover Arts for Inspiration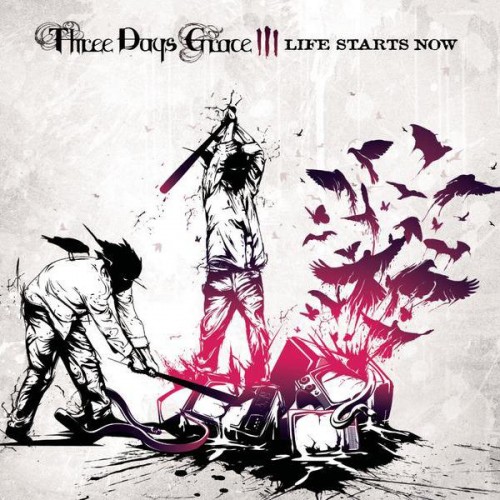 50 Excellent Photography-Related Tutorials
With the advent of affordable digital cameras and photo-editing software such as Photoshop, what used to be an expensive profession is more and more accessible to casual individuals.
This is a collection of 50 of the best tutorials and guides we could find for helping you capture better digital photos.