If you need a great, working WordPress WP e-Commerce theme, but you don't have time or necessary skills, then this theme is just for you. The main feature of this theme is it's accordion slide on top of the products. This accordion displays the available categories and/or brands. Sliding over the accordion will bring a brief description of the category. A click on the link will display all the products of this category or brand. A few fancy effects were also added, such as the buttons and shadows are made with CSS3.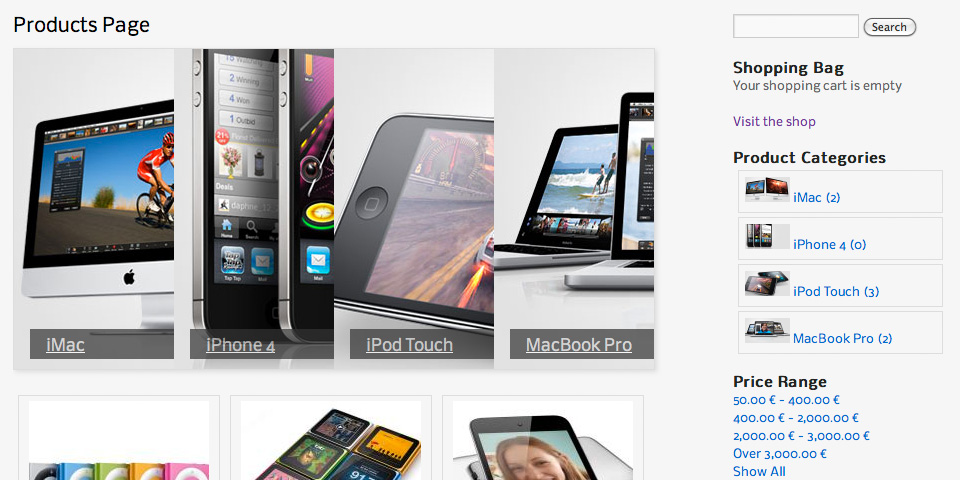 [download id="2328″ format="2″]
As it is in an early version and a work in progress, not all features have been included yet. Have some thoughts of this theme? Give them to me, I would be glad to hear them! Djavu-shop is ready to use and you get quality stuff with modern features for free.
Requirements
WordPress > 2.8, works great with WordPress 3
WordPress WP e-Commerce plugin
Theme Installation
Unzip the zip file that you downloaded here and locate the 'djavu-shop' folders inside the 'theme' folder. This is the folder and contents you will need to upload to your webserver.
FTP Upload the 'djavu-shop' folders to your 'wp-content/plugins/wp-e-commerce/themes/' directory on your web server, then you can activate the theme.
Login to your wp-admin section and browse to Store>Settings>Presentation page, click on the drop-down list and djavu-shop theme should be in the list. Select it and save changes.
Djavu-shop v. 0.2 Theme is
100% unique and has a modern design
100% free for personal or commercial use, licensed under creative commons license.
Get it!

[download id="2328″ format="2″]
If you like it please donate something
[donateplus]