A few years ago I never thought Google Chrome would have a chance against Firefox. Now Google Chrome is quickly becoming a popular browser due to its speed and its growing collection of extensions. Like in Firefox with it's Plugins, Google has it's Extensions which are a great way to add functionality that doesn't come packaged with the browser.
In this short article we will just focus on helping you save time (and clicks) in your everyday surfing and development tasks. So here are 7 small addictive Extensions that will help you streamline your daily work flow.
Window Resizer
by Ionut Botizan
This extension resizes the browser's window in order to emulate various resolutions. It is particularly useful for web designers and developers by helping them test their layouts on different browser resolutions.
The resolutions list is completely customizable (add/delete/re-order).
Features
There are 3 screen types available:
Desktop (standard; resize the entire window to the specified resolution)
Laptop/Notebook (same as Desktop, but different icon; makes it easier to scan the resolutions list)
Mobile (different than the previous two; this applies the specified dimensions to the viewport, not to the entire window, because mobile browsers usually have no borders)
[download id="2332″ format="2″]
Chrome SEO
by Sean Bannister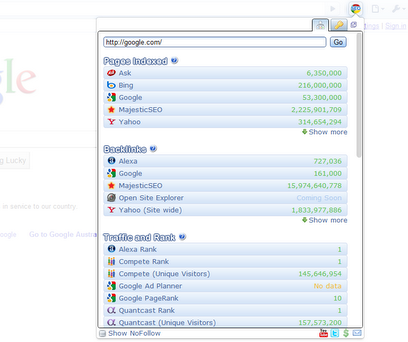 The Google Chrome SEO Extension provides easy access to Search Engine Optimization Tools that can help you with Competitive Analysis, Keyword Research, Backlink Checks, PageRank Checks and other daily SEO tasks.
Features
A Keyword Research Tool
Highlight NoFollow links
The number of Pages Indexed
The number of Backlinks
Current Traffic and Rankings
Social Bookmark counts
Cached Versions of the page
Domain Details like DNS, IP, Whois, Server Location
Detects Robots.txt and Sitemap.xml
[download id="2334″ format="2″]
MeasureIt!
by nirzoref

Draw out a ruler that will help you get the pixel width and height of any elements on a webpage.
[download id="2336″ format="2″]
Chrome Sniffer
This extension will help web developer to inspect web framework / CMS and javascript library running on current browsing website. An icon will appear on address bar indicates the detected framework.
Detect more than 50 CMS and javascript librairies.
[download id="2338″ format="2″]
Pixlr Grabber
by Pixlr


First version of the pupular screen grab tool from Pixlr to Chrome. Grab visible screen, select part or entire page. Share screen to Pixlr imm.io, edit screen in Pixlr editor or save to desktop.
[download id="2340″ format="2″]
Google Mail Checker
Displays the number of unread messages in your Google Mail inbox. You can also click the button to open your inbox.
[download id="2342″ format="2″]
Session Manager
by tirokea

With Session Manager you can quickly save your current browser state and reload it whenever necessary.
You can manage multiple sessions, rename or remove them from the session library.
Each session remembers the state of the browser at its creation time, i.e the opened tabs and windows.
Once a session is opened, the browser is restored to its state.
Features
Create sessions for daily routines: Pages you open on morning, noon and evening
Group pages of common interest such as News, Financial and Social Networks.
Save the pages found during a research session that you'd like to revisit later.
[download id="2344″ format="2″]